Housed within the Biorepository & Precision Pathology Center is the Tissue Microarray (TMA) Facility. Producing a TMA involves using a hollow needle to remove cores from regions of interest out of paraffin-embedded tissues, such as clinical biopsies or tumor samples. These tissue cores are then transferred to a recipient paraffin block in a precisely spaced, array pattern. A map is generated so that the investigator knows the location of each sample. Sections from this block are cut using a microtome, mounted on a microscope slide, and analyzed by any method of standard histological analysis. The TMA facility has the capability of producing blocks with cores ranging in size from 0.6mm to 2.0mm with the total number of cores per block dependent on the core size. Each microarray block is then subjected to a quality control test before releasing to the investigator.
Tissue microarrays are particularly useful in the analysis of multiple samples simultaneously and provides preservation of limited archival tissue samples. TMA's are also cost effective because reagent costs and experimental times are significantly reduced.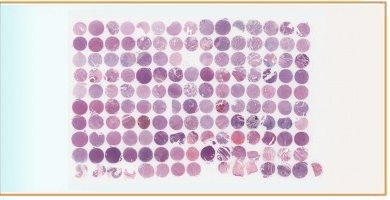 FAQs
On average you can expect about 2 months. This will allow time to assemble the donor blocks and make sure they are correct.
Depending on the core size it can be up to 200 cores.
Our QC process assures that at least 90% of the cores attempted are valid. If QC fails the investigator has the option of accepting the block as is or the BRPC can attempt to redo the TMA with different donor blocks. The older the blocks that are chosen, the more likely it is to have problems generating the TMA.
Contact Us
Director:
Dr. Shannon McCall
Dept. of Pathology
Davison Bldg Room 309
 
Coordinator:
Thomas Ribar
Dept of Pathology
Davison Bldg. Room 316
919-684-4530
thomas.ribar@duke.edu