BRPC serves as the Southern Division for the National Cancer Institute's Cooperative Human Tissue Network (CHTN). Investigators both inside and outside of Duke, at both academic and commercial entities, can apply to become CHTN investigators and gain access to quality samples through the network.
The Cancer Diagnosis Program of the National Cancer Institute (NCI) established the Cooperative Human Tissue Network (CHTN) in 1987 as a resource for investigators to have access to human biological specimens such as solid tissue and fluid samples. The CHTN is more than a biobank as it provides each investigator the opportunity to acquire fresh samples processed uniquely to serve their research goals.
To increase a researcher's access to specimens, the CHTN relies on multiple institutions to provide samples from donors with various conditions: The Midwestern Division based at The Ohio state University, The Mid-Atlantic Division based at the University of Virginia, the Western Division based at Vanderbilt University Medical Center, the Easter Division based at the Hospital of the University of Pennsylvania, the Pediatric Division based at Nationwide Children's Hospital in Ohio, and the Southern Division based at Duke University. 
Having acquired the CHTN grant in the 2019 cycle, we are the newest member of the CHTN. We proudly serve researchers located at Duke University and across the Southern region of the United States as a primary division by assisting with all services related to completing the application, as well as providing biospecimens. In addition, we continuously distribute samples to researchers across and outside of the country through our participation in this network. We aim to provide high-quality biospecimens such as tissue, slides, blood, and body fluids. To learn more about the benefits of becoming a CHTN investigator through Duke, please send an email to path-chtn@dm.duke.edu.
CHTN FAQs
If you would like to know if a request you have can be fulfilled through the CHTN, please email us at path-chtn@dm.duke.edu and we can answer any questions about the needs of your project..
If you have previously inquired about a project and would like to submit an application, go to the CHTN website and please send the completed PDFs (CHTN application and CHTN request information forms) to Path-CHTN@dm.duke.edu. We will contact you if any additional information is needed. Please allow approximately 5-10 business days for a response on applications.
If you are already an approved CHTN investigator and would like to request additional services, please contact us at path-chtn@duke.edu. We monitor this inbox 8 a.m. to 5 p.m., Monday through Friday and will get back to you within 1 business day.
Available biospecimens include those listed here. The CHTN includes a network of biobanks, so if a specific specimen is not available at the Southern Division, it can be networked to the other CHTN divisions. 
CHTN processing fees are listed here. If you have any questions regarding these fees or need assistance creating a budget for your project, please email us at path-chtn@duke.edu.
As an approved CHTN investigator, you will not only have access to samples available at Duke but your request can be fulfilled by any of the other divisions.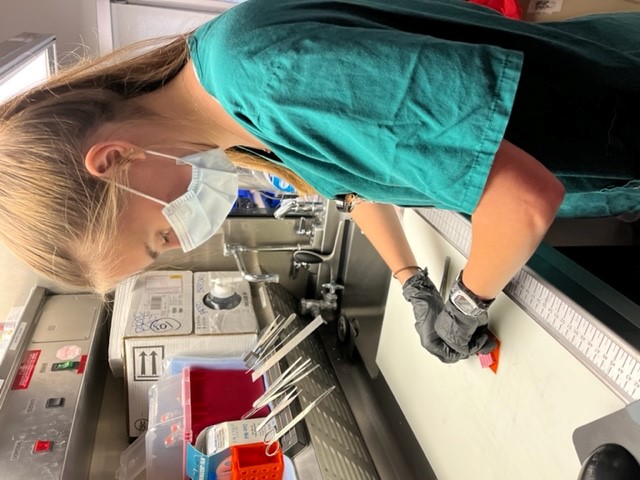 Learn More About CHTN, Request Samples, View Fees